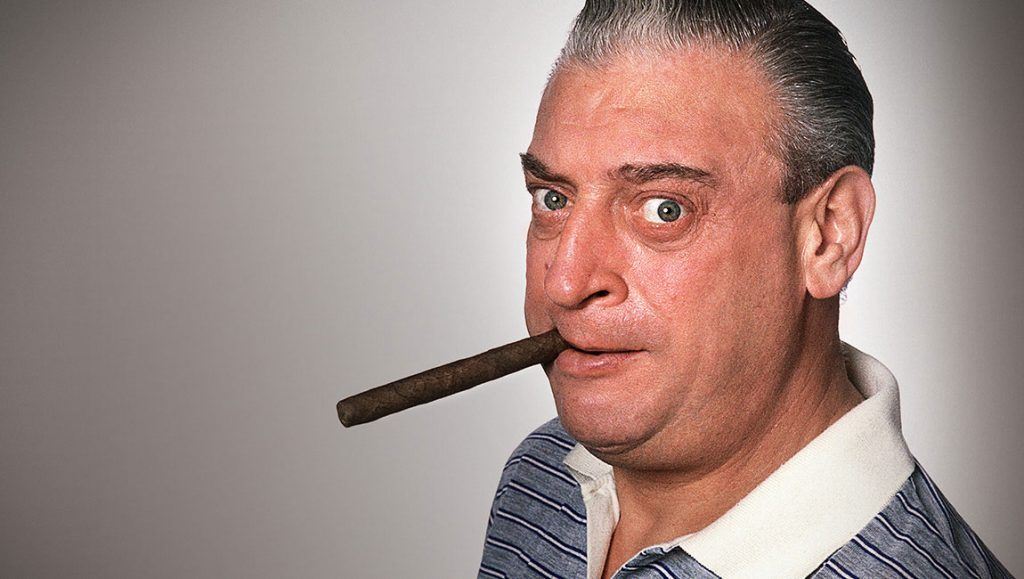 Ask today's generation, and they probably have never heard of Rodney Dangerfield. I however, was fortunate enough to have been bit by the no respect bug at a tender age.
Early Beginnings:
Born Jack Roy in a poor working class neighborhood in New York City, Dangerfield developed his trademark self-deprecating humor by taking cues from his rough childhood. His father (who he referred to in his routines as 'My Old Man') abandoned the family and Rodney had to take odd jobs to support his family.
In the early 1960′s he started down what would be a long road toward rehabilitating his career as an entertainer. Still working as a salesman by day, he returned to the stage, performing at many hotels in the Catskill Mountains, but still finding minimal success. He fell into debt (about $20,000 by his own estimate), and couldn't get booked. As he later joked, "I played one club—it was so far out, my act was reviewed in Field & Stream."
He came to realize that what he lacked was an "image", a well-defined on-stage persona that audiences could relate to, one that would distinguish him from comics. After being shunned by some premier comedy venues, he returned home where he began developing a character for whom nothing goes right.
He took the name Rodney Dangerfield, which had been used as the comical name of a faux cowboy star by Jack Benny on his radio program at least as early as the December 21, 1941 broadcast, and later as a pseudonym by Ricky Nelson on the TV program The Adventures of Ozzie and Harriet. The Benny character, who also received little or no respect from the outside world, served as a great inspiration to Dangerfield while he was developing his own comedy character.
The "Biography" program also tells of the time Benny visited Dangerfield backstage after one of his performances. During this visit Benny complimented him on developing such a wonderful comedy character and style. However, Jack Roy remained Dangerfield's legal name, as he mentioned in several interviews. During a question-and-answer session with the audience on the album No Respect, Dangerfield joked that his real name was Percival Sweetwater.
After a 1967 appearance on The Ed Sullivan Show, Dangerfield was an in-demand comedian who frequented many TV shows including a record 35 Times on the Tonight Show starring Johnny Carson.
In 1969, Rodney and longtime friend Anthony Bevacqua opened 'Dangerfield's' in Manhattan's Upper East Side neighbourhood, the club served as a showcase for up and coming comedians, some who passed through Dangerfield's include:
Tim Allen
Jim Carrey
Roseanne Barr
George Carlin
Jerry Seinfeld
Jeff Foxworthy
Sam Kinison
Andrew Dice Clay
Louie Anderson
Bob Saget
He was also instrumental in Jim Carrey's rise to stardom. In the 1980's after seeing him perform at The Comedy Store
in Los Angeles, Dangerfield signed him to open for him in Las Vegas, the two toured together for two more years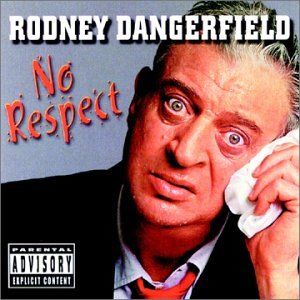 His 1980 comedy album, No Respect, won a Grammy Award. One of his TV specials featured a musical number, "Rappin' Rodney", which would appear on his 1983 follow-up album, Rappin' Rodney. In December 1983, the "Rappin' Rodney" single became one of the first Hot 100 rap records, and the associated video was an early MTV hit. The video featured cameo appearances by Don Novello as a last rites priest munching on Rodney's last meal of fast food in a styrofoam container and Pat Benatar as a masked executioner pulling a hangman's knot. The two appear in a dream sequence where Dangerfield is condemned to die and does not get any respect, even in Heaven, as the gates close without his being permitted to enter.
At His Career Peak In the 1980's
Though his acting career had begun much earlier in obscure movies like The Projectionist (1971), Dangerfield's career peaked during the early 1980s, when he began acting in hit comedy movies.
One of Dangerfield's more memorable performances was in Harold Ramis' 1980 golf comedy Caddyshack, in which he played an obnoxious nouveau riche property developer who was a guest at a golf club, where he clashed with the uptight Judge Elihu Smails (played by Ted Knight). His role was initially smaller, but because he and fellow cast members Chevy Chase and Bill Murray proved adept at improvisation, their roles were greatly expanded during filming (much to the chagrin of some of their castmates).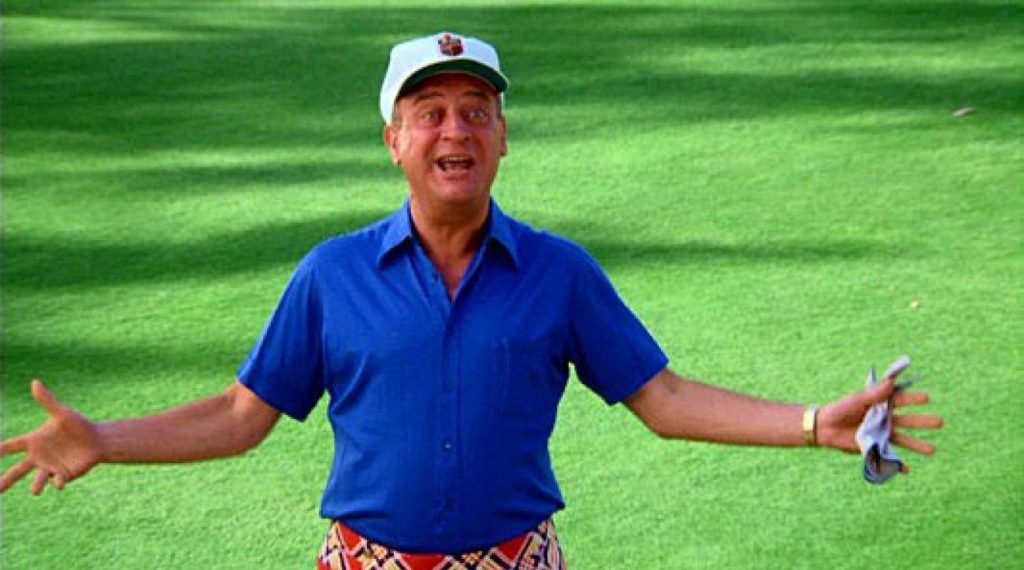 His appearance in Caddyshack led to starring roles in Easy Money and Back To School. Unlike his stand-up persona, his comedy film characters were portrayed as successful and generally popular—if still loud, brash and detested by the wealthy elite.
Various roles through the 1990's and the new millennium kept him busy including a memorable role as Lucifer (father of Harvey Keitel's Satan) in the Adam Sandler film Little Nicky and writing, voicing, and producing the animated film Rover Dangerfield in 1991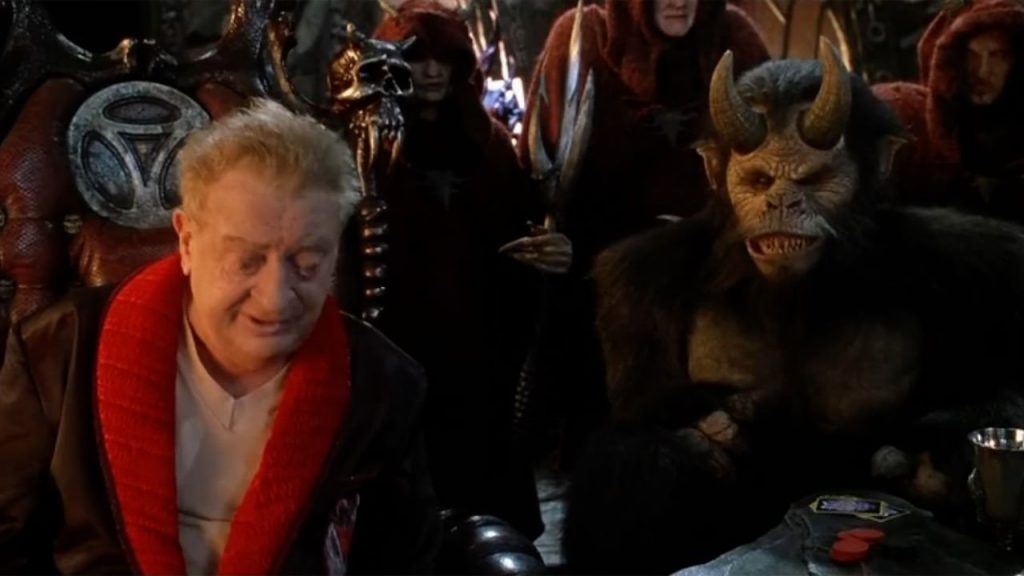 He also found time to appear as a Mystery Guest on the revival of the Goodson/Todman Classic What's My Line
However he died a month and a half shy of his 83rd birthday on October 5 2004 from complications from Heart surgery
Respect At Last (Legacy):
In His Memory
Saturday Night Live ran a short sketch of Rodney Dangerfield (played by Darrell Hammond) at the pearly gates of heaven and St. Peter says he heard he got no respect: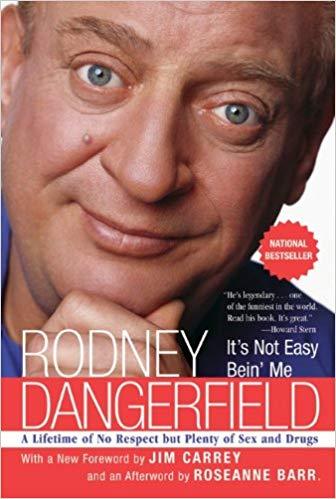 His Memoir, It's Not Easy Bein' Me was also released posthumously and is a must read for his fans, that's my opinion anyway Following his death in 2004 his widow had his Gravestone memorialized with one of his best catchphrases: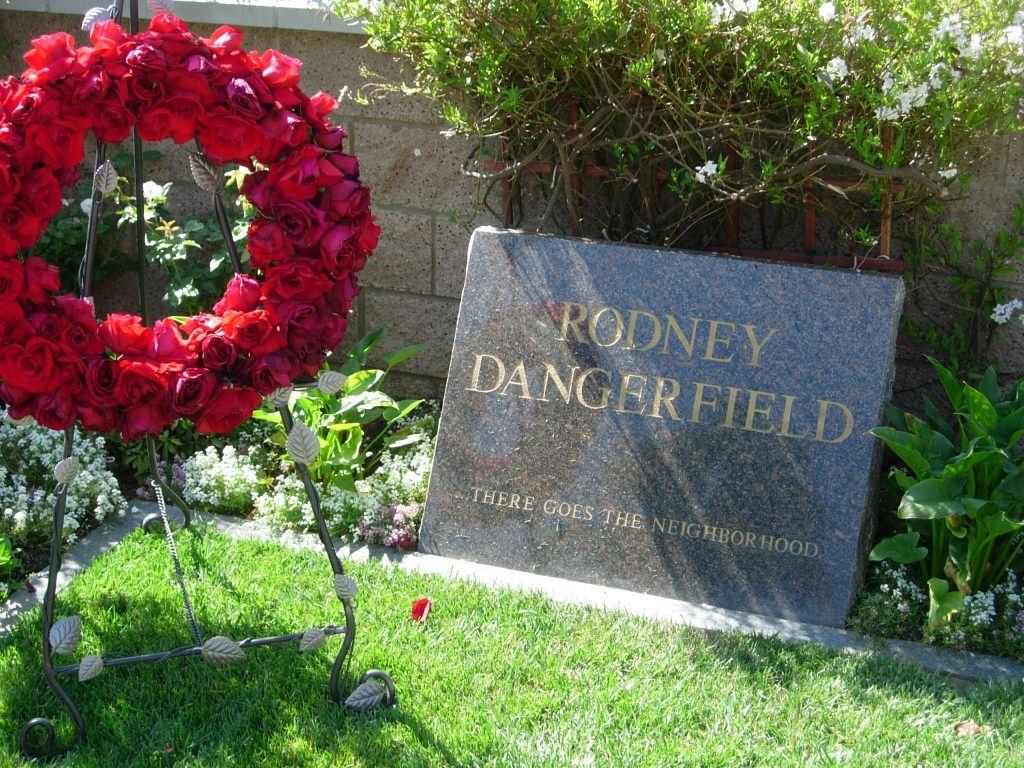 On April Fool's Day in 2018, ABC News did a piece on the world's longest running comedy club that bears Rodney's name:
To close out the article here is one of my favorite quotes of his
"My neighborhood's rough. Forget about it, will ya. In my neighborhood,
they got signs all over, 'Drive fast, the life you save may be your own.'"

Rodney Dangerfield (1921-2004)