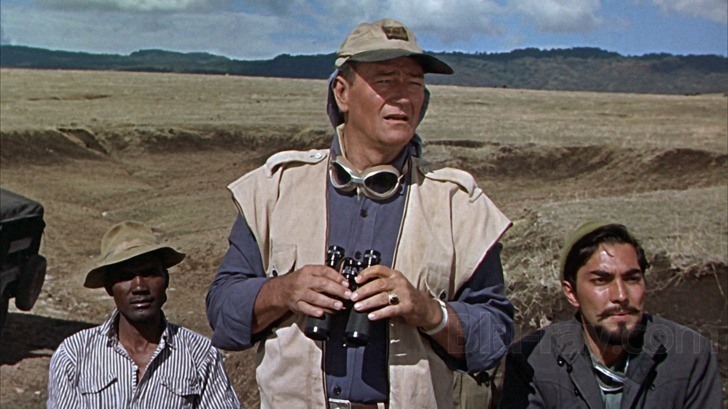 Originally Written on May 26 2019
Today John Wayne would have been 112 If he were still roaming the countryside. The Duke as he has become so well known as was a huge inspirational figure to me growing up. The last true hero in a rapidly changing landscape where Law & Order in the old west was losing it's splendor in favor of flashy outfits and service revolvers that were evident in the 1970's & 80's with shows such as Starsky & Hutch and Miami Vice and films like Dirty Harry, John Wayne persevered in an ever changing cinematic landscape playing heroes that everyone could relate to. Among his iconic roles were:
Deputy Marshall Reuben J. "Rooster" Cogburn (True Grit, Rooster Cogburn & The Lady),
Sean Mercer (Hatari!)
Breck Coleman (The Big Trail)
Roy Glennister (The Spoilers)
Kirby York (Fort Apache)
Sgt. John Stryker (Sands Of Iwo Jima)
Sean Thornton (The Quiet Man)
Ethan Edwards (The Searchers)
John T. Chance (Rio Bravo)
Col. Davy Crockett (The Alamo, also directed & produced by Wayne)
Sam McCord (North To Alaska)
Jake Cutter (The Commancheros)
Lt. Col. Benjamin Vandervoort (The Longest Day),
George Washington McLintock (McLintock!)
Captain Rockwell Torrey (In Harm's Way)
Cole Thornton (El Dorado)
Col. Mike Kirby (The Green Berets)
Chance Buckman (Hellfighters)
Jacob McCandles (Big Jake)
He also ventured into the detective genre made popular by his contemporary Clint Eastwood in the Dirty Harry series by playing the title roles in McQ (1974) & Brannigan (1975) but perhaps his most memorable and final role was John Bernard Books, an aging gunslinger in The Shootist (1976).John Wayne was a hero among many young boys and girls who idolized him the world over, I owe a HUGE part to my Grandfather and my mother for introducing me to him, some 121 roles altogether in his impressive body of work, all you need to see how much of an impact he had on me is this sign of him that I hang proudly in my bedroom: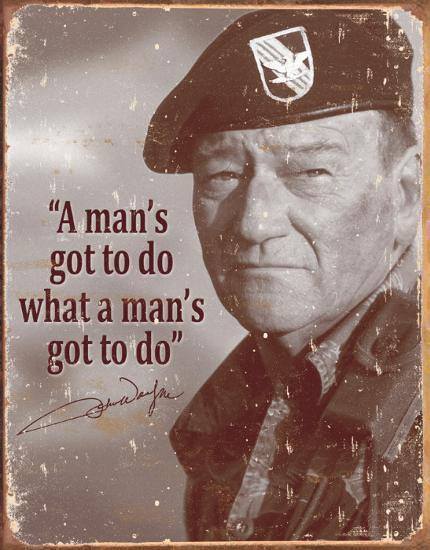 some of my favorite quotes of The Duke's include:
"Courage Is Being Scared To Death But Saddling Up Anyway"
" A Man's Gotta Do What A Man's Gotta Do"
"Life Is Tough, But It's Tougher When You're Stupid"
"Talk Low, Talk Slow, and Don't Talk Too Much"
"Tomorrow Hopes We Have Learned Something From Yesterday"
"Never Apologize & Never Explain….It's A Sign Of Weakness"
"I'm responsible only for what I say, not what you understand…."
"A goal, a love and a dream give you total control over your body and your life."
"When you come against trouble, it's never half as bad if you face up to it."
"When You Stop Fighting, That's Death"
"Don't pick a fight, but if you find yourself in one I suggest you make damn sure you win."
May The Duke live on forever, wherever he may roam…..