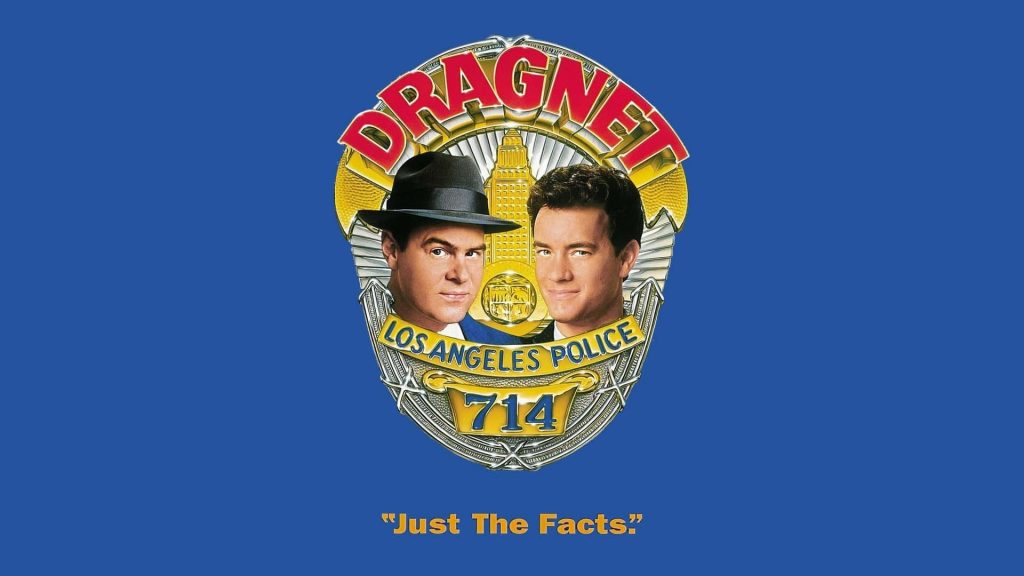 Genre: Comedy/Homage
Director: Tom Mankiewicz
Stars: Tom Hanks, Dan Aykroyd
Released: 1987
If you were a child of the 1960's you most likely heard of Jack Webb, and even if you hadn't he left his mark on TV with what most consider the forerunner to Reality TV by creating a string of TV shows that centred on the day to day operations of front line responders from the Police in Adam-12 and Dragnet 1967 and it's predecessors to the Fire Department and hospital in Emergency!
Real stories were Jack's passion and he had a policy that the stories in all his shows were based on real events. I unfortunately didn't come around until 1980 but thanks to the magic of Syndication I got to see his shows in re-runs and I got a real treat in 1987 when Dragnet was brought to the big screen.
To his chagrin, a by-the-book Los Angeles policeman Detective Sergeant Joe Friday (Dan Aykroyd) has been assigned a flippant, street-wise new partner, Pep Streebeck (Tom Hanks). This comically mismatched duo investigates a series of murders, which leads them to the religious cult P.A.G.A.N. (People Against Goodness and Normalcy). Infiltrating the group, they rescue Connie Swail, and she and Friday fall in love. When Connie identifies respected community leader and the police commissioner's friend Reverend Jonathan Whirley (Christopher Plummer) as the head of the cult, Friday attempts to publicly arrest the man and is suspended. Connie is kidnapped in retaliation and when Friday is reinstated, he and Streebeck lead the raid on the P.A.G.A.N. headquarters and Friday's heroics save the day and bring Whirley to justice.
This movie has it all. Comedy, Drama and a lot of references Dragnet fans will recognize. One of my favourite parts was that Harry Morgan returned to reprise his role of Officer (Now Captain) William Gannon. I give it 4 Out of 5 For Paying a true homage to the show but some areas could have been improved upon